An all-new patent-pending kit for solo-launching, simplified partner-launching, and shock absorbing docking.
Works with fishing boats, pleasure boats, deck boats, pontoons, and tritoons
See How Dock-It Launcher Works
(NO MORE USING ROPES WITH KNOTS THAT COME LOOSE!)
OUR NEW PONTOON & TRITOON KIT
This kit will allow you to launch your pontoon or tritoon boat by yourself and it will greatly simplify launching and docking when you have the help of a partner. The components in the kit will offer multiple means of securing your boat to just about any dock you encounter.
Solo-Launching at a short dock?
Just reverse the Dock-It Launcher connections and enjoy the same simplicity of solo-launching a boat that will also self-dock!
HOW TO MEASURE TO DETERMINE THE BEST KIT FOR YOUR BOAT
(See the "How to measure" video link below and/or view the full-length "How to and other uses" video below the measurement chart for visual instructions that explains proper measuring and proper use)
Measuring instructions

To determine the correct kit measure the distance between the middle of the front cleat and the middle of the rear cleat and then refer to the sizing chart.

*It's possible that you may have multiple forward tie-off points (multiple cleats and/or rails). If so, pick one that is located in the "Best" zone. If you have multiple tie-off points in the "Best" zone, then pick the one that has the shorter measurement. Since the main cord will stretch, and by choosing the shorter measurement in the "Best" zone, you will then be able to leave the main cord attached to your boat while you are on the water (regardless of which forward tie-off point you choose to use) so it will then be ready to use when it comes time to secure your boat when you return to the dock.

*If you only have one forward tie-off point, and if the measurement falls right between two kit sizes, then choose the longer size kit for the best performance.

(see video link below)

"How to measure to determine the best Dock-It Launcher kit for your boat"

 https:// https://youtu.be/fxQgVnyc8vs

(If you have any other questions please refer to the complete "How To and other uses" instructional video below the measurement chart or contact us at support@dock-itlauncher.com)

*In no event shall Dock-It Launcher, LLC be liable for any direct, indirect, punitive, incidental, special consequential damages, to property or life, whatsoever arising out of or connected with the use or misuse of our products.  By using this site, you acknowledge that you have read the Disclaimer and that you accept and will be bound by the terms hereof.
"How To" and "Other Uses" video.
Learn how to determine the correct size kit for your boat, how to install devices for solo launching, how to use devices for all docking and mooring applications, and how the devices can be used for so much more.
Dock-It Launcher™
A brand new patent pending device for solo launching and solo docking of your boat (and SO MUCH MORE!) A Dock-It Launcher™ kit is to the boat owner, what jumper cables are to an automobile owner - something they should have onboard with them at all times!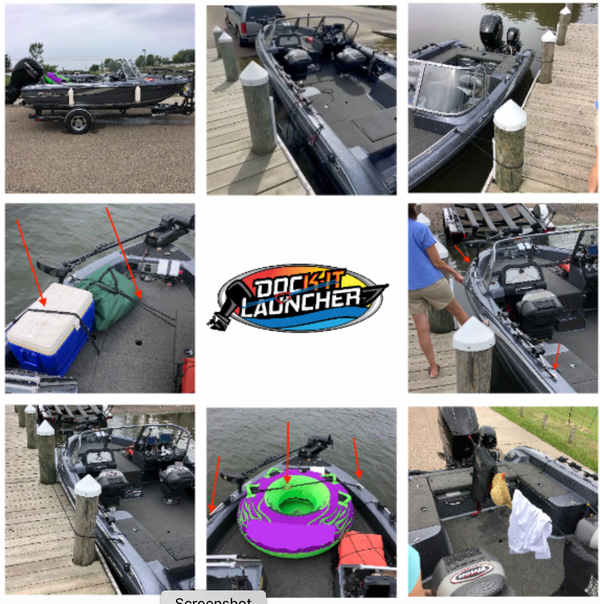 AT THE LAUNCH

Dock-It Launcher™ will allow you to quickly launch your boat without anyone else's assistance (you can even watch your boat "self-dock" from the rearview mirror of your tow vehicle!)

AT THE DOCK

Dock-It Launcher™ devices will allow you to secure your boat to virtually any dock. The shock absorbing capabilities will help protect your boat from waves generated by the wind and from wakes made by other boats.

ON THE WATER

Use Dock-it Launcher™ devices to secure your coolers, storage bags, tackle, rods, and water toys. The included devices can also be used for shock absorbing anchoring, attaching drift socks, and quick and simple boat tie-ups.

OTHER USES

Use Dock-It Launcher™ devices for securing equipment in your boat while trailering, as a clothesline for hanging wet gear, and also back at camp for so many "non-boating" uses!
The Pro's corner
Burnsie's Guide Service reviews Dock-It Launcher
Check out Burnsie's other informative fishing techniques videos on his YouTube Channel: https://www.youtube.com/@burnsiesguideservice6682
Captain Mike Martin using Dock-It Launcher™
Get info on Mike's charters at Mike Martin Outdoors:
https://mikemartinoutdoors.com/
Testimonials from the pro's
Tired of launching your boat by yourself or docking your boat with standard rope/dock lines? The Dock-It Launcher has been an awesome addition to my everyday fishing trips! Super easy to use and quality made!! Highly RECOMMENDED!! (I run a Ranger 620FS)

Burnsies' Guide Service
I have been using this system for some months now, and I cant say enough about it. As someone who basically always launches their boat solo, this has proven to be invaluable and a great investment. Its simple, effective, and efficient. I have never been worried that I may "lose " my boat using this. It also has caused zero damage to my boat in any way. I trust it enough to launch a Vexus with it lol...The neat part, is the main line I always leave connected on both sides. When I pull back up to the dock I just flip it over the poles and go get the truck. Here's the best part, being that it's elastic, when I back my trailer in and the boat is say too Far forward I can just push it back with the trailer. No adjusting ropes, or needing an extra person to move the boat back..This really does make my life easier every time I launch my boat.
I love the launcher! Makes my life much easier in the morning and when I launch on windy days it saves me time and offers the peace of mind knowing the boat is secure while I park the truck.
(I run a 2021 Skeeter WX2200)
If you are ever faced with having to launch your boat by yourself, you will definitely want a Dock-It Launcher kit in your boat. Launching by yourself has never been this easy (and it has many other uses besides just launching and docking). I love my Dock-it Launcher kit! (I run a Nitro ZV20)
A great product! It's always available and ready to use when you pull up to the dock whether you are unloading or loading your boat! Great customer service! 
(I run a Ranger 620FS)
Testimonials from customers
"Hey Mike Martin Outdoors….thanks for the Dock-it Launcher post!!!!! This thing is worth its weight in gold! I launched half-dozen times in the last two weeks by myself and it's flipping amazing! Thanks Mike! ..tight lines!"
"I am using the system on my Ranger 622 and have nothing but good things to say about it. I back the boat in until the winch post is right at the water line, then pull the rear loop back to a cleat or dock post which helps pull the boat off the trailer. The second loop that slides the full length helps pull the boat up against the dock while I park the trailer. That one if positioned towards the front of the boat locks it in to the dock. I would say it is a must have for anyone who fishes alone or guides for a living and launches on a daily basis. I give it 10/10 and wouldn't hesitate to recommend it".
I bought one at the Fishing Expo in Madison and got to try it out yesterday and today up in De Pere. Absolutely love it! I fish alone quite often and had a good process for launching and loading, but your product made it so much easier and faster. 10 out 10!
I launch on Lake Michigan by myself and this is the best solution ever! Fast, easy, and reliable. Will never use anything else beside Dock-It Launcher
The Highlight Corner: "GREAT PRODUCT ALERT!"
An interview with Captain Barb Carey - Founder of WI Women Fish